Laminate kitchen worktops are popular among homeowners partly because they are a cheaper yet elegant option. These worktops, which comprise of a chipboard or particleboard core on which a sheet of laminate is bonded with resin, come in a range of designs with some mimicking marble and wood.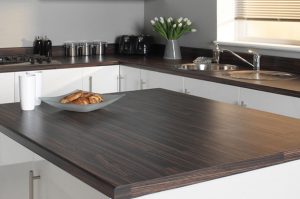 Laminate worktops are also quick and easy to install making them a favorite among homeowners that prefer a DIY experience. Even then, it is advisable to talk to laminate worktops experts at BBK Direct for instructions as well as professional help to ensure that your worktop is professionally fitted.
Top Facts Laminate Kitchen Worktops
Before buying your next laminate kitchen worktop, it is important to understand the facts about these worktops. They include the following:
They are cheap compared to other counter top materials yet they offer value in terms of design and quality. Thus, they are cost effective and ideal if you have a restrictive budget.
The come in a wide range of textures and colours. You can purchase laminate worktops in different designs as well as vivid or subtle colours depending on your taste. Alternatively, you can also opt for those designs that mimic materials such as granite and oak. Consequently, you can be sure to find laminate worktops that perfectly complement just about every kitchen design.
They are easy to maintain and clean. It is easy to wipe off splashes and spills from laminate worktops owing to its waterproof nature. In addition, these surfaces are hygienic with some like bush boards having built in bacterial protection.
They are easy to cut and shape making them ideal for unusual kitchen designs. Moreover, they are able to accommodate hobs, sinks and stoves well albeit without a specialist fitter.
When given the right care and maintenance, laminate kitchen worktops are able to last for long. You will do well to avoid cutting directly on the surface with sharp objects and knives to prevent potential damage through cut marks that are not only permanent but can also harbour germs and bacteria.
If you are buying laminate worktops UK, keep in mind that these worktops must be cared for well if they are to look their best after so many years. Here are some guidelines on laminate kitchen worktops care that you need to observe:
Use a damp cloth to clean the worktop while ensuring you dry the surface.
Avoid using abrasives to clean your laminate worktop as this will result in irreversible damage.
Do not place hot objects such as pots from the oven on your worktop.
Do not use polish that has wax as it will make the surface dull.
Avoid dragging items such as pans and glazed pottery on the surface.
Do not cut anything directly on the surface as they will scratches.
With good care, laminate kitchen worktops can last for up to 20 years in perfect condition. Consequently, if it is damaged or marked you will do well to consider replacing it with a whole new worktop as this is a cheaper option.